Unleashing Advanced Surveillance Capabilities: HIKVISION DS-7716NXI-I4/16P/S 16-ch 1.5U 16 POE AcuSense 4K NVR.Introduction: In the realm of cutting-edge surveillance technology, HIKVISION stands tall as a pioneer, revolutionizing security solutions. In collaboration with their esteemed partner, HIKD, HIKVISION introduces the HIKVISION DS-7716NXI-I4/16P/S 16-ch 1.5U 16 POE AcuSense 4K NVR. This remarkable network video recorder boasts an array of intelligent features, setting new benchmarks in surveillance efficiency and effectiveness. Join us as we delve into the remarkable capabilities of the DS-7716NXI-I4/16P/S NVR and explore the crucial partnership between HIKD and HIKVISION, driving innovation in the security industry.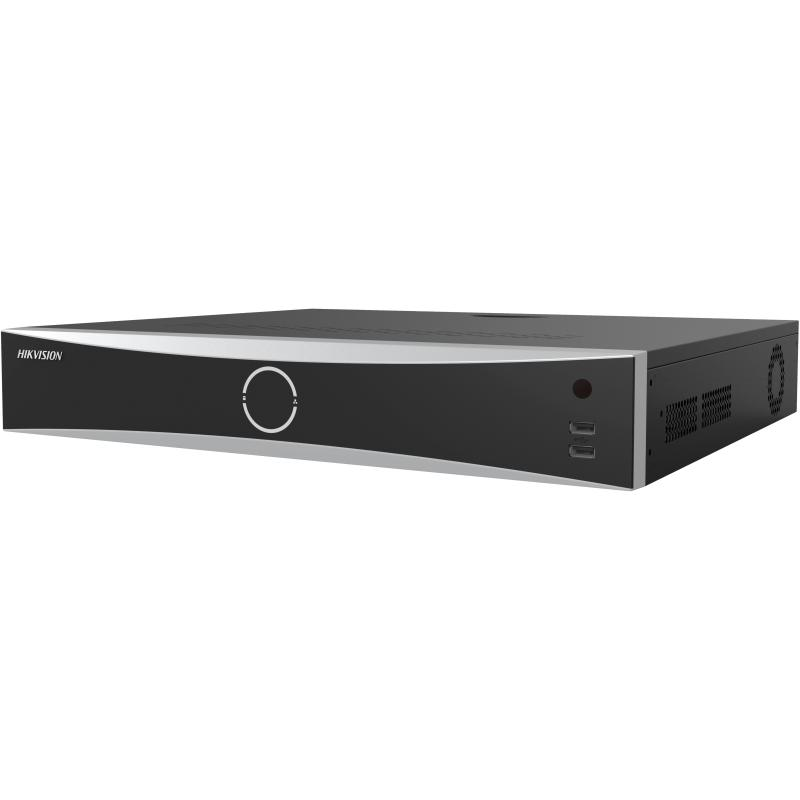 Powerful Video Formats for Uncompromised Visuals: With support for H.265+/H.265/H.264+/H.264 video formats, the DS-7716NXI-I4/16P/S NVR delivers exceptional video quality while optimizing storage space. Experience the clarity and precision of 4K visuals, capturing every detail with astonishing clarity. Whether it's monitoring critical assets or securing public spaces, the DS-7716NXI-I4/16P/S NVR ensures that no moment goes unnoticed, providing you with the visual clarity you need to maintain a safe and secure environment.
Intelligent Analytics Redefining Security: Powered by a deep learning algorithm, the DS-7716NXI-I4/16P/S NVR boasts intelligent analytics capabilities that revolutionize security surveillance. With up to 4-ch perimeter protection, it accurately detects and notifies you of any suspicious activities or intrusions. The NVR's advanced facial recognition technology enhances security further, enabling the identification and tracking of individuals of interest. Gain unprecedented control over your surveillance system, ensuring maximum protection and peace of mind.
Seamless Integration for Hassle-Free Deployment: The DS-7716NXI-I4/16P/S NVR simplifies installation and setup with its Plug & Play functionality. Equipped with 16 Power-over-Ethernet (PoE) interfaces, this NVR eliminates the need for additional power cables, reducing clutter and streamlining your surveillance infrastructure. Effortlessly connect up to 16 IP cameras and experience seamless integration, saving time and resources without compromising on performance.
Unmatched Decoding Capacity and Bandwidth Management: Featuring up to 16-ch 1080p decoding capability and an impressive 160 Mbps incoming bandwidth, the DS-7716NXI-I4/16P/S NVR handles data streams with unparalleled efficiency. Whether you're monitoring a single camera or multiple feeds simultaneously, this NVR ensures smooth video playback and real-time monitoring. Stay ahead of potential security threats with the NVR's exceptional decoding capacity and bandwidth management capabilities.
HIKD: Empowering Innovation and Collaboration: HIKD plays a pivotal role as a strategic partner to HIKVISION, driving innovation and collaboration in the security industry. As a trusted collaborator, HIKD brings its extensive knowledge and expertise to the table, enabling HIKVISION to deliver groundbreaking solutions like the DS-7716NXI-I4/16P/S NVR. With their joint commitment to excellence, HIKD and HIKVISION empower customers with advanced security solutions that surpass expectations.
Conclusion: Embrace the future of surveillance technology with the DS-7716NXI-I4/16P/S 16-ch 1.5U 16 POE AcuSense 4K NVR from HIKVISION. Experience the power of intelligent analytics, seamless integration, and unparalleled video quality, all in one compact and reliable package. Together with their esteemed partner HIKD, HIKVISION continues to redefine the standards of security, ensuring that you have the most advanced surveillance system at your disposal. Trust HIKVISION and HIKD to safeguard your assets and provide you with unmatched security solutions that propel your organization into a safer tomorrow.
About The Author