Enhance Your Security with HIKVISION DS-9616NXI-I8/S 16-ch 2U 4K AcuSense NVR
Introduction: When it comes to safeguarding your premises, having a reliable and advanced surveillance system is paramount. Introducing the HIKVISION DS-9616NXI-I8/S NVR—a cutting-edge network video recorder that combines high-quality video recording, intelligent analytics, and advanced features to revolutionize your security. With its unparalleled capabilities and the support of HIKD, a trusted partner, this NVR takes your security to a whole new level.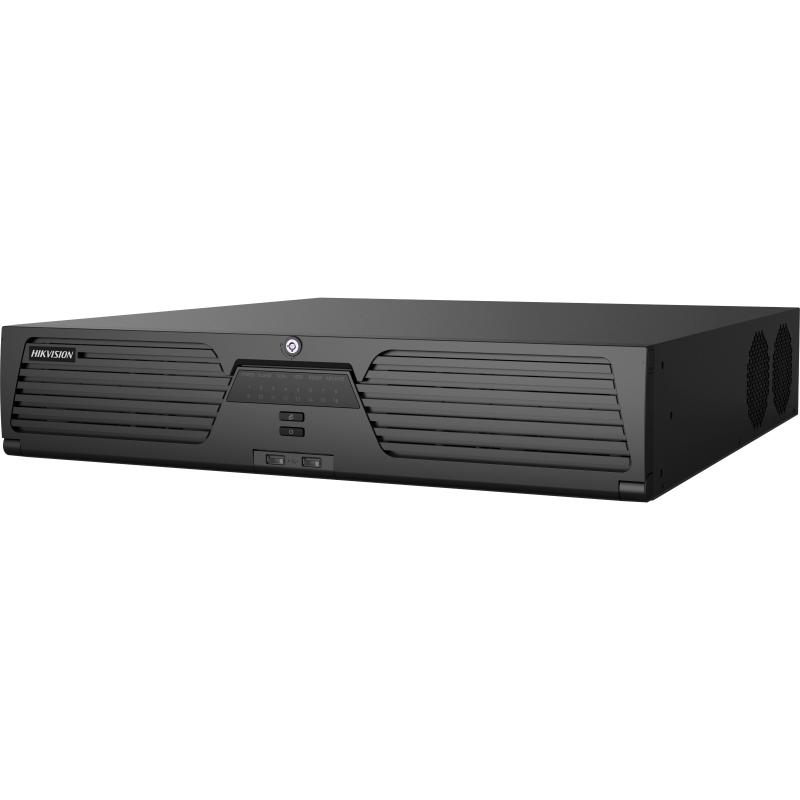 Intelligent Analytics for Enhanced Security: The DS-9616NXI-I8/S NVR incorporates deep learning algorithms to deliver intelligent analytics capabilities. With its powerful processing capabilities, it can accurately analyze video streams, enabling proactive security measures. Benefit from advanced features like perimeter protection, which detects intrusions and provides real-time alerts, and facial recognition, which identifies individuals from video streams or still images. These intelligent analytics enhance situational awareness and empower you to respond swiftly to potential threats.
Exceptional Video Performance: Experience crystal-clear video playback and decoding with the DS-9616NXI-I8/S NVR's support for H.265+/H.265/H.264+/H.264 video formats. These advanced compression technologies ensure efficient storage utilization without compromising video quality. Whether you're monitoring live feeds or reviewing recorded footage, every detail is captured with exceptional clarity. With up to 16-ch 1080p decoding capability and an impressive 320 Mbps incoming bandwidth, you can rely on smooth and uninterrupted video performance.
Seamless Integration and Flexibility: The DS-9616NXI-I8/S NVR supports up to 16-ch IP camera inputs, providing a comprehensive surveillance solution for a wide range of environments. Whether you're securing a small office, a retail store, or a large-scale enterprise, this NVR offers the flexibility to meet your specific needs. Benefit from seamless integration with HIKVISION's extensive lineup of IP cameras, allowing you to build a customized and scalable security system.
HIKD: Your Trusted Partner in HIKVISION Solutions: Partnering with HIKD, a leading distributor of HIKVISION products, ensures that you receive the highest quality surveillance solutions. HIKD's commitment to innovation and customer satisfaction makes them an ideal partner for businesses seeking advanced security systems. With their expertise and extensive range of HIKVISION products, you can trust HIKD to deliver reliable and tailored solutions that meet your unique requirements.
Future-Ready Security Solution: The DS-9616NXI-I8/S NVR is designed to adapt to the ever-evolving security landscape. It combines state-of-the-art technology with HIKVISION's renowned reliability, ensuring that your security system remains future-ready. As new challenges emerge, this NVR can be seamlessly upgraded with the latest firmware and algorithm updates, guaranteeing that your security is always up to date.
Secure Your Future with HIKVISION and HIKD: Elevate your security to unprecedented levels with the DS-9616NXI-I8/S 16-ch 2U 4K AcuSense NVR. Benefit from intelligent analytics, exceptional video performance, and seamless integration with HIKVISION's comprehensive range of products. Partner with HIKD to receive unparalleled support, expertise, and access to cutting-edge security solutions. Trust HIKVISION and HIKD to safeguard what matters most to you.
About The Author